PYTHON HUNTRESS
Documentary Feature – in development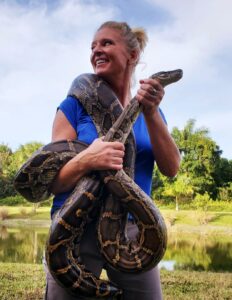 Amy Siewe left her highly lucrative job—and her fiancé—to relocate to Florida. She's working there to stop the environmental damage caused by imported Burmese pythons. The pythons thrive in the unique subtropical wetlands of the Everglades Biosphere — they've eaten 90% of the mammals and birds in the area. Invasive species rank as the 5th greatest threat to the world's environment. Can Amy, sometimes wrestling snakes bigger than she is, restore some balance to the Glades?
Starring AMY SIEWE
Director KATE YORGA
Producer JOAN PROWSE | Producer CINEFOCUS CANADA
For the past 30 years, CineFocus Canada has explored timely issues through diversity and inspiring characters, including a documentary on Buffy Sainte-Marie and the nine-season TV|web series Green Heroes.